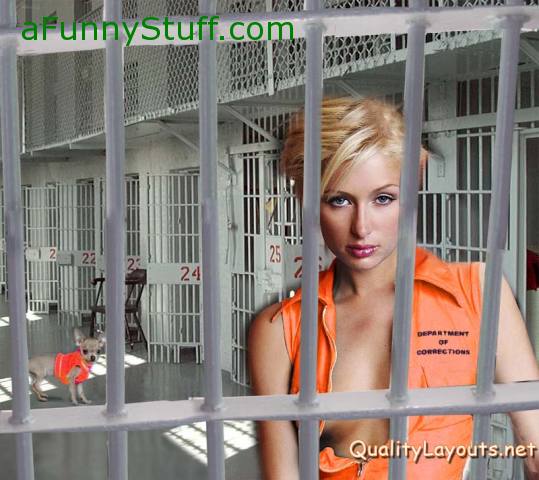 Just call me Paris. Or LiLo. Or Amy Crackhouse. Or any of the hundreds of celebs who have donned an orange jumpsuit lately.

No, I didn't actually get arrested. Don't have that resume-booster... yet. But I do feel like the convict of my office.

I received a huge slap on the wrist yesterday. I'm sure you can guess why. Hint: it has nothing to do with inappropriate work attire or unprofessional relations with co-workers.

I was reprimanded for.........(drum roll, please.)

Tardiness.

Shocking, I know.

I knew it was bound to happen sooner or later. Employers don't tend to appreciate the art that is

Running Fashionably Late

.

My supervisor was kind enough to greet me yesterday morning with a friendly e-mail. I'm hoping I can start supplementing my bowl of Wheaties with electronic correspondence like the one below. Now
this
is the breakfast of champions:
Hi Miss Procras.
I wanted to bring to your attention our attendance policy. Please read it carefully. It is very important for everyone to be to work on time.You have been consistently tardy to work. Please remember to be in the office by the following scheduled time.
Early Shift 8:30-5pm
Late Shift 9:30-6pm
If you happen to be late, please make sure to call ahead of time if you know you are not going to make it on time. Also, keep in mind, in order to make up time this must be requested early on that morning so it can be approved. You must communicate this to boss #2 or to me if boss #2 happens to be out that day.
Thank you.
Yikes/Crap. You know what this means??

1) My disguises don't work. AT ALL.
2) I actually have to start getting up on time. Does anyone know if there are alarm clocks that come without a snooze button? Or maybe I should just buy a rooster. I'm sure this guy could wake me up:


Honestly, I need kicks in the ass like this every now and then. They motivate me to be more ::gulp:: punctual.

I really hate that word. And I hate how life is driven by a clock.

But I guess while I'm in the working world I need to suck it up and at least
attempt
to arrive on time.

So this morning, I only allowed The Hoff to hit the snooze button twice before dragging myself out of bed. (Actually, he threw the covers off me and literally had to push me out of his bed. Same difference.) Regardless, I walked into my cubicle at exactly 8:37. That beats my average arrival time by
13 minutes
.

See, I'm improving already!

The real test will come on Sunday. I'm scheduled to open the boutique at 9:30 a.m. And...I'll be two hours away in my hometown.

I know what you're thinking. Why in God's name would I do this to myself, knowing my track record?

I have four words for you: friends. holiday party. alcohol. I love all three enough to risk it.

Full report Monday on how this all unfolds.

Weekly Miss Procras. Stats:
*Days arrived late to full-time job: 5
Average number of minutes late: 21.4
*Days arrived late to part-time job: 1
Average number of minutes late: 3
*Times late meeting friends: 0
*Number of times hitting snooze on the alarm clock: 12

(PS-I know I promised Meet Pete, Part 2 today. In typical Miss Procras. fashion, it has been postponed until next week.)