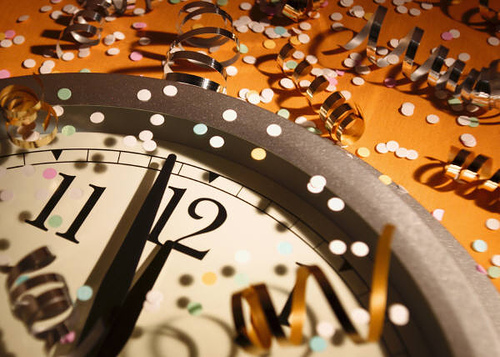 I'm back from my holiday hiatus and I promise to stick to a more regular blogging schedule. I hope everyone had a wonderful holiday season!


The start of a new year inevitably brings about resolutions. I never really take these seriously because, quite frankly, I never stick to any resolutions I make, no matter how good my intentions may start out being. I know-so uncharacteristic of me...
This year, though, I want to really try. I'm turning 25, the quarter century mark, and it seems as good a time as any to start acting like a more mature, responsible adult. (I think I just threw up a little from that statement.)
Here are my resolutions, and God knows, I'm going to need all the help I can get in keeping these:

1) Start arriving to work (and other places of importance) on time

**I would like to note that yesterday, I arrived right on time to a 10 am store meeting, after a night of drinking that ended with a celebratory tequila shot. AND, today, I arrived 1 minute EARLY to work. Please, don't hurt yourself falling out of your chair.**

2) Start a regular workout regimen. Does anyone know any fun workout routines? Or better yet, one that involves shopping and/or drinking? I think I would exercise all the time if those two were involved.

3) Find a job doing something I enjoy. This will probably be determined more by the job market and economy than my own efforts. I have high hopes, Obama, high hopes!
4) Continue expanding my ever-growing shoe collection. This also means I need to find a bigger closet.
5) Reclaim the alcohol tolerance I lost upon graduating from college. Oh man, how I miss the glory days of being able to knock back 11 drinks with no problem. My family and friends have already helped me toward this goal with their alcohol-themed gifts:

*Lo bought me my favorite gift this Christmas-an engraved cellphone flask. It's by far the coolest thing ever and will certainly provide bountiful opportunities for me to smuggle alcohol into bars, concerts, subways, family functions, etc. Ah! I can't wait to be drunk all the time!


*My roommate gave me a cute apple martini gift set. If you know me, you know my go-to cocktail is an apple martini. This will definitely come in handy when I need to unwind after work and I'm certain it's contents will be depleted by the end of the month


*The Hoff, among other things, gave me a cranberry and pomegranate martini mix set. Never had either but they sound delish and they came in a fun case that I'm thinking of using as a container to hold my magazines. What can I say, The Hoff has pretty good taste for a boy.


*Christmas morning, when my little bro was already getting on my nerves with his picky eating habits, (My mom forgot a loaf of bread for his toast and gravy, but she had potato rolls she could toast. Not good enough for him…he wanted white bread, so he insisted on finding an open store. Crazy teenage boys.) I immediately asked for a strong drink. My mom, being the lifesaver she is, suggested I make poinsettias. Done and done. So, I proceeded to get drunk off poinsettias on Christmas Day so my family wouldn't drive me crazy.
As awesome as all these gifts were, I also wonder whether my friends are trying to tell me something…

I'm gonna go with the supportive stance. I know they want me to succeed and keep a new year's resolution for once.

Good luck to those of you who also made resolutions this year. Maybe we can support each other and actually keep these through 2009!

Remember to take time for yourself each day, whether it be stopping here, or enjoying your personal favorite methods of procrastination.